Clutch / Transmission Parts
PHC Valeo Flywheel
Advantages of PHC Valeo Flywheel
Lower fuel consumption owing to a lower engine speed
Reduction of rattle noise and body boom in all operational ranges
Reduction of synchronization wear
Reduction of gear shift effort
Protection of power train parts from excessive loading
Excellent capacity of releasing irregular vibration rising from engine and transmitting to transmission, increasing the quietness of engine and transmissions, improving durability and fuel efficiency.
1. SMF(Single Mass Flywheel)
SMF has greater thermal and warp resistance. The SMF is extremely durable, due to its efficient heat dissipation qualities and the lack of complex high wearing flywheel components. It allows for quicker engine revving; they are therefore suitable for frequent engine speed and gear change conditions, such as racing engines or off-road driving. Technically, the SMF reduces engine vibrations due to the increased inertia of the solid flywheel and offers greater longevity The SMF reduces engine noise, the crankshaft and in-pot shaft bending. It also increases the stability of the system by re-adjusting the clutch.
2. DMF(Dual Mass Flywheel)
PHC Valeo DMF provides driving comfort by improving rattle and booming noise to a great extent throughout the entire range of driving. PHC Valeo developed 2 types of DMF(KDMF, CDMF). PHC Valeo DMF has excellent NVH performance by primarily damping random vibration, transferred from the engine. The DMF is suitable for both passenger vehicles and commercial vehicles. Especially, The DMF is applicable to various vehicles such as manual transmission, automatic transmissions, continuously variable transmissions, wet-dct, hybrid transmissions etc.
Certificate
IATF 16949 / ISO 14001/ OHSAS 18001
Flywheel Type
Dual Mass Flywheel

Pendulum Dual Mass Flywheel

Direct Damper Flywheel

C-Dual Mass Flywheel

Dual Mass Damper

Single Mass Flywheel
Marking & Details on Flywheel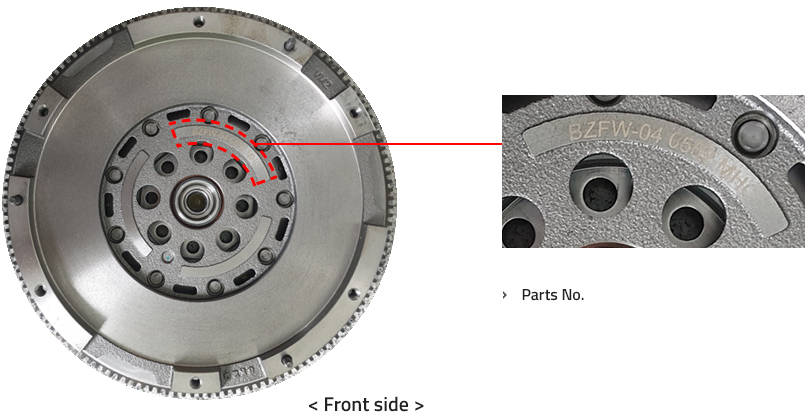 Box Details
Label Details

Troubleshooting(DMF)
Finding : Discoloured blue/purple color on both sides, visible damage
Symptom : DMF malfunction, noise
Cause : Very high thermal load

Finding : Trace of liquid or solid grease from primary flywheel welding
Symptom : DMF malfunction, noise
Cause : Defective primary flywheel

Finding : DMF bearing is damaged
Symptom : DMF malfunction
Cause : Wear, mechanical impact

Finding : Grease egress, sealing cap missing, discoloured brown due to overload
Symptom : DMF malfunction
Cause : Very high thermal load, mechanical damage

Finding : Facing of clutch disc melted
Symptom : Limited operational reliability of DMF
Cause : Very high thermal load

Finding : DMF ring starter gears heavily worn or broken
Symptom : Impaired starter operation, noise
Cause : Defective operation of starting engine

Finding : Secondary flywheel scores the primary flywheel
Symptom : Impaired starter operation, noise
Cause : DMF bearing or bushing is worn out

Finding : Cracks on the friction surface
Symptom : Limited operational reliability of DMF
Cause : Very high thermal load

Finding : Damage on the friction surface, Worn out clutch
Symptom : The clutch is unable to generate the required torque
Cause : The clutch facing rivets score on the friction surface of DMF

Finding : Folded or incorrectly fitted dowel pins
Symptom : Difficult changing gear, noise
Cause : Mechanical damage

Finding : Secondary flywheel free to rotate beyond permissible free movement
Symptom : Vibration, noise
Cause : Springs' loss of effectiveness

Finding : Sensor ring teeth distorted
Symptom : Engine runs uneven
Cause : Mechanical damage
Clutch Installation Guide
Clutch Removal
Mark drive shafts to match up on reassembly.
Fully support transmission making sure that it's securely fastened to transmission stand. Do not allow gearbox to hang on the input shaft.
Remove gearbox directly backward but not diagonally.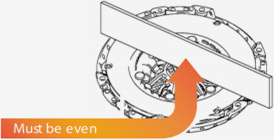 For Best Results
Install new release bearing and pilot bearing/bushing whenever installing a new clutch
Replace clutches as KIT
Surface of the pressure plate & flywheel should be even or flat.
Inspection & Checkpoint
Checking abnormality before replacement is important, i.e. checking hydraulics, bearing, clutch cable, oil leakage etc.
Make sure new products are exactly for your application.
If try to engage any same size clutch to your mission,
A. facing

No oil or contamination on facing is allowed.

B. clutch disc

Check spline teeth or flywheel runout.
Apply 'little' grease on teeth and drive shaft spline.

C. flywheel

Check overheating crack, scoring, warping and contact surface(with facing) flatness.

D. input shaft

Check spline wear. Apply little grease on the teeth.

E. release bearing

Remove old grease/Apply thin grease. New bearing must slide freely.
Apply thin grease on fork pivot and fingers. Ensure smooth operation.
Installation
Make flywheel/pressure plate/disc facing absolutely clean(No dust or rust using solvent or cleaner)
Use alignment tool to correctly align the disc to flywheel.
Assemble cover to flywheel dowel holes. Tighten bolts evenly according to diagonal order.
Flywheel to crank(8 bolts)53 ft. lbs.
Install transmission housing carefully. Input shaft slowly with care as first picture shown above.
DO NOT FORCE or use the tightening of the bell housing bolts to draw transmission to the engine block.
Rotate input shaft if necessary to align splines.
DO NOT HANG transmission jack lift, during installation.
Refer to the vehicle manufacturer's specifications for correct adjustment of the clutch.
After adjusting clutch pedal release distance and hydraulics, take a load test.

Production process
The Highest Quality for Customer Satisfaction
PHC Valeo has made unstinting investment in equipment to manufacture the best product for customer's satisfaction. We're realizing zero defects through building the newest cutting-edge automatic production system and production management which all processes are visible.

Also, we provide the optimal working environment with locating the equipment ergonomically for the workers. We have especially raised the efficiency of the working environment and lowered the dangers, utilizing CoBot. That is, we offer the optimal working environment which is the base of manufacturing products of zero defects.
Safety precautions
Handle with care
Check for smooth installation
Remove excess grease
Diagonal bolt tightening
Check alignment of clutch and transmission
Warning
Do not use this clutch for racing, high performance driving, hot rodding, or any situation whenever engine RPMs may exceed manufacturer's specifications for the engine.
The pressure plate can explode unexpectedly causing serious injury or death to vehicle occupants and bystanders.
The clutch cover and bell housing will not protect from exploding the pressure plate.
Always use the recommended clutch set for your specific application.